We decided as a neighborhood that something was missing in our family, we did quite a bit of research on what would be best for our neighborhood and which pet we all wanted. After all of that we decided a hamster is what we wanted, so we looked and looked trying to find one that would work for us then finally we found one. Let me tell you it didn't take long for the elders and staff to fall in love with her. She loves getting in her ball and roaming the nursing home stopping and making visits to the elders that live here. She loves snacks and is very tamed to where the staff and residents can pet and hold her.
Isn't she just adorable?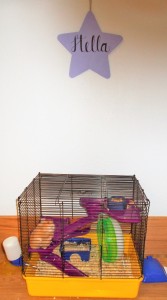 Such a curious little girl.
Our Elder's just love her.
Pictured from Left to Right: Lorene, Beth, and Dreda all enjoying little Miss Stella.